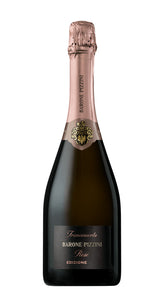 FEATURES
Vineyards : 
Guyot trained and rooted on morainic soil, enriched by fluvioglacial depositions.
Vinification : 
Soft pressing, fermentation in steel, maturation for 6 months in steel and in barrique and second fermentation in the bottle according to the Classic Method
Refinement : 
30 months on the lees
Production philosophy : 
Biological


Barone Pizzini's Franciacorta Rosé Extrabrut is a skilful blend of dream and earth. Halfway between the handsome gentleman and the woodcutter with his hands in the earth, this Classic Method fully encloses the 
multifaceted personality
 of Pinot Noir, enhanced in its silky part by the participation of the complementary Chardonnay. The Barone Pizzini winery owns an area of ​​47 hectares on Franciacortino soil. The priority has always been 
respect for the environment
 , an essential prerequisite for creating harmony first of all in the vineyard and then, as a natural consequence, in the glass.
Barone Pizzini Franciacorta Rosé Extra Brut is composed of a blend of 80% Pinot Noir and 20% Chardonnay. The grapes come from vineyards located in the areas of Santella, Roncaglia and Gallo, defined by a fluvioglacial and morainic soil. Following the harvest and the soft pressing of the bunches, the first alcoholic fermentation begins in stainless steel tanks. For the production of the base wine there is also a refinement phase consisting of a 6-month stop in steel and a subsequent passage in barrique. Once ready, the refermentation phase in the bottle can begin; it stays in contact with its own yeasts for 30 to 40 months .
Barone Pizzini's Extrabrut Rosé Franciacorta already attracts the eye, convincing with a delicate and bright pink color. Red fruit dominates the nose , with clear hints of raspberry, made particularly fresh by a citrusy grapefruit tone and perfectly integrated on an earthy background that refers to the forest and its fruits. In the mouth the freshness and flavor make the sinuous body of this Rosé snappy, which closes in an elegant and pleasant finish. A bubble full of juice and lots of grit.
Color : Coral pink, with fine and persistent perlage
Scent : Lively and sensual, with enveloping notes of berries, citrus and cassis
Taste : Fresh, citrusy and juicy, with savory nuances and great aromatic cleanliness