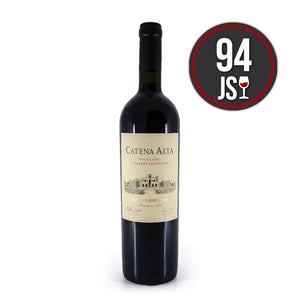 JAMES SUCKLING 94 POINTS

Region : Uco Valley, Mendoza, Argentina

Varietal : 95% Cabernet Sauvignon and 5% Cabernet Franc

Tasting Notes : Catena Alta Cabernet Sauvignon is a blend of different plots in order to achieve greater complexity. it usually comes from the La Piramide, Domingo and Nicasia vineyards from Lujan and Valle de Uco.

It's super varietal, with power herbal and spicy aromatics, serious and without a trace of heat. It has an elegant and fresh palate with bright, vibrant flavours and great length.

Certified sustainable wine, made from organic grapes, bottled unfiltered, unfined.