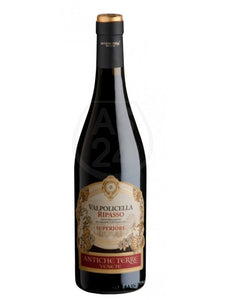 The barrel-aged Valpolicella Ripasso Superiore from the wine-growing region of Veneto reveals a dense hue in the glass. The bouquet of this red wine from Veneto delights with nuances of black cherry, plum, plum and morello cherry. If we trace the aromatics further, cocoa bean, oriental spices and vanilla are added, promoted by the oak influence
On the palate, the texture of this powerful red wine is wonderfully silky and dense. Due to its present fruit acid, the Valpolicella Ripasso Superiore presents itself wonderfully fresh and lively on the palate. In the finish, this storable red wine from the wine-growing region of Veneto finally inspires with considerable length. Once again, hints of plum and damson show through.


Vinification of the Antiche Terre Valpolicella Ripasso Superiore
The basis for the powerful Valpolicella Ripasso Superiore from Veneto are grapes from the grape varieties Corvina, Corvinone and Rondinella. At the time of optimal ripeness, the grapes for the Valpolicella Ripasso Superiore are harvested exclusively by hand without the help of coarse and less selective machines. After the harvest, the grapes are immediately taken to the winery. Here they are sorted and carefully ground. Fermentation then takes place in stainless steel tanks, small and large wood at controlled temperatures. After the end of fermentation, the Valpolicella Ripasso Superiore is aged for another 12 months in French oak barrels.


Food recommendation for Antiche Terre Valpolicella Ripasso Superiore
This Italian is best enjoyed at a temperate 15 - 18°C. It is perfect as an accompanying wine to goose breast with gingered red cabbage and marjoram, spicy curry with lamb or lamb stew with chickpeas and dried figs.