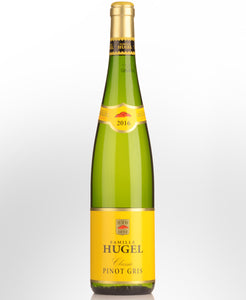 In the vineyard :
Grapes carefully selected from within the Hugel Family estate including a high proportion from the Pflostig, strongly influenced by the chalky soils of Riquewihr.
The grapes have been handpicked into small containers such that they arrive intact to the press.
Winemaking :
Gravity feed presses, no pumping or other handling.
After a few hours of decanting the must is then transferred to vats for fermentation at a carefully controlled temperature (18 to 24°C). Part of the wine (around 30%) was fermented in six to ten wine Burgundy barrels; this gives the wine body without the addition of any oaky character. A single racking before winter allowing the wine to clarify naturally without any artificial cold treatment. The wine is then lightly filtered in spring before bottling. The bottles are then laid down in our cellars before commercialization. The whole of the vintage was corked with DIAM, the cork without cork taint.
____________________________________________________________________________________________

From The Wine Advocate "New is the Classic (former Hugel) range that represents "the essence of the pure, dry Famille Hugel style" and now includes Muscat and Pinot Gris, along with all the other noble grapes. The grapes of the Classic range are predominantly purchased but obligatory hand-picked from vineyards with clay-limestone soils in Riquewihr and neighbouring villages, and give classic gastronomic wines with a dry expression."
____________________________________________________________________________________________

"Classic" Pinot Gris is one of the Hugel family secrets first released with the fabulous 2006 vintage.
This new release is from a drastic selection of the best grapes purchased from winegrowers under long-term contract in a dozen of the most favored localities in and around the village of Riquewihr and includes an sizable amount of grapes declassified from some Grand Cru vineyards of the Hugel estate.
The hand picked grapes were taken intact to the presses, filled by gravity, the must decanted for a few hours, then fermented in temperature-controlled vats with natural yeasts. The wine is the purest expression of the grapes, with a very natural and non-intervention vinification.
Winemaker Notes
This is the most food-friendly out of all their wines. It pairs well with veal, roast chicken, all seafood and even ripe cheeses. This Pinot Gris is made without oak aging to preserve the rich fruit character of the wine and at the same time make sure the wine is completely dry.



Critical Acclaim
Although a whiff of pear appears on the nose of this wine, it is on the palate that the full pear fruit shines. Its tartness brings freshness to the concentrated, dry and powerful body. The finish is appetizing and clean.