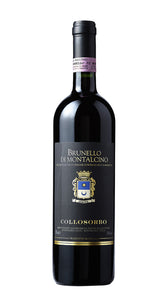 Obtained from a meticulous selection of Sangiovese grapes from the best vineyards of the company, Brunello di Montalcino is the result of scrupulous work in the countryside and of targeted interventions in the cellar which, respecting and worshiping an ancient tradition, preserve the integrity of the fruit and enhance the quality of a wine that in history and over time is renewed in every bottle.
Vines : 100% Sangiovese (approved clones and company selections).
Harvest : control of ripeness and selection of the best grapes (up to 2-3 passages), hand-picked in small baskets, rapid transfer to the wine-making cellar for further selection of the bunches on the sorting belt.
Vinification : soft destemming, alcoholic fermentation at controlled temperature with frequent pumping over, long maceration on the skins, repeated tastings and chemical analyzes to determine the optimal time for racking.
Aging : in large Slavonian oak and French oak barrels from 12 to 54 hectoliters for about 3 years, followed by aging in the bottle for at least 8 months.
Pairings: suitable for important combinations with main courses of red meats, roasted, stewed or with noble game.