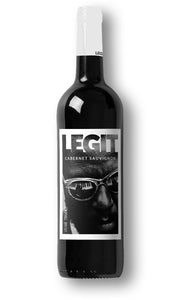 Country: Italy
"Don't play everything, let some things go by. What you don't play can be more important than what you do". -Thelonious Sphere Monk

The story of LEGIT Cabernet Sauvignon began in 2016 when Lia was tasting barrels of the 2013 Cabernet Sauvignon at Tolaini with a colleague from Banville Wine Merchants. They agreed this wine was a LEGIT Cabernet Sauvignon, with a true sense of place and an Italian soul. In wanting to pursue the name LEGIT, only one person came to mind. A person who embodied stylish originality and eternal hipness, an artist referred to as the "Genius of Modern Music" - Thelonious Monk. LEGIT's striking label is an iconic photo from the album cover of one of Monk's most famous live concert recordings, 'Thelonious Monk in Italy' recorded live April 21st, 1961 in Milan by Riverside Records.
After getting in touch with Thelonious Monk's family to secure the rights to the use of the label, an adventure that was born as a business endeavor evolved into collaboration and has ultimately grown into a wonderful friendship between the Monk and Tolaini family.
We are proud to offer this wine as a tribute to the timelessness of Monk's music. Pulitzer Prize winner,
respected composer (his single "Round Midnight" is the most recorded Jazz single to date) AND who
today is still referred to as the epitome of Jazz, Thelonious Monk has and will always set the bar for all things LEGIT!
Tasting Note: 
The wine has a deep ruby red color. The nose displays hints of green pepper, licorice and graphite melted with oak vanilla flavors. Full bodied with a ripe fruit palate, LEGIT has the potential to age for a long period of time, which is typical of the Cabernet Sauvignon produced in the Castelnuovo Berardenga Area.