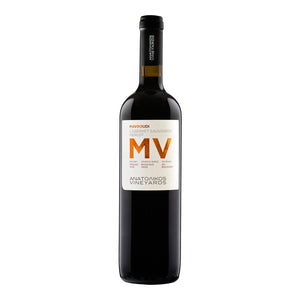 Type: Red Wine
Country: Greece
Region: Thrace
Grape Variety: 60% Mavroudi, 20% Merlot, 20% Cabernet Sauvignon
Alcohol Percentage: 14.5%
Viticulture: Certified Organic | Natural Wine | Vegan Friendly
Climate: Mediterranean with Eastern warm winds. Day to night temperature difference of 13-15 Celcius
Terroir: Located on Sandy hills within a proximity of 5 kilometres from the sea, the Αnatolikos vineyards practices organic viticulture and are able to produce 400-500 kilos per acre
Ageing: Fermentation in French oak barrels for 12 months. The wine is bottled unfiltered and without any other treatment.
Color: Shiny red-purple colour
Nose: Discreet aromas which develop into a bouquet of ripe red and black fruits, dry plums and figs
Palate: Beautiful tannins with balanced acidity on a fruit-forward palate. Complex finish
About the Winery:
Located in Avdira, Xanthi (or Thrace in Eastern Greece), Anatolikos Vineyards was established in 2005 by Sakis and Marios Nikolaidis, experienced businessmen of Xanthi in the fields of gastronomy.
The revival of their famous vineyard sites began in 2000. Contributing to this initiative, the brothers started by farming Greek and foreign grape varieties on their unique vineyards located on the dry hills of Avidira city. Some notable varieties include Malagousia, Mavroudi and Assyrtiko. At an altitude of 50-70 meters and a location approximately 2 km away from the Thrace Sea, the sandy-soiled terroir enjoys continuous cool winds and the region's microclimate, which consistently benefitted the growth of healthy vines and grapes.
Their distinctive philosophy is summarized by organic farming practices, minimal interventions in winemaking, little or no sulphites added, and spontaneous ferments that provide a distinctive fingerprint to their wines. Their love for what they do and willingness to experiment with amphora fermentation has led them to produce incredible natural wines that are nothing short of exceptional!