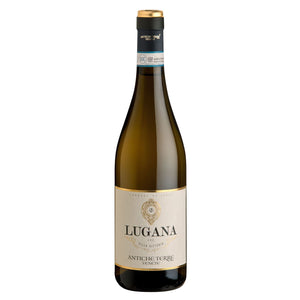 In the glass, the Antiche Terre Lugana presents a bright light yellow color. This Antiche Terre white wine shows all kinds of mangoes, pineapples, papayas, roses and violets on the nose. As if that weren't already impressive, forest soil and sun-warmed rock are added by the expansion in stainless steel.


This dry white wine from Antiche Terre is ideal for wine lovers who prefer to drink dry as a bone. The Lugana comes pretty close, as it was pressed with just 3.5 grams of residual sugar. On the tongue, this balanced white wine is characterized by an incredibly crisp and silky texture. Due to the moderate fruit acidity, the Lugana flatters with a soft palate without missing out on juicy liveliness. The finale of this white wine from the Veneto wine-growing region, more precisely from the Lugana DOC, finally convinces with a good finish.


Vinification of Antiche Terre Lugana
This wine clearly focuses on one grape variety, namely Trebbiano. Only the best grapes were used for this wonderfully balanced varietal wine from Antiche Terre. At the point of optimal ripeness, the grapes for the Lugana are harvested exclusively by hand, without the help of rough and less selective machines. After the harvest, the grapes are taken to the winery as quickly as possible. Here they are selected and carefully ground. Fermentation follows in stainless steel tanks at controlled temperatures. Fermentation is followed by aging on the fine lees for a few months before the wine is finally bottled.


Food recommendation for the Antiche Terre Lugana
This Italian is best enjoyed well chilled at 8 - 10°C. It goes perfectly as an accompanying wine with baked sheep's cheese parcels, red onions filled with couscous and apricots or a fruity endive salad.