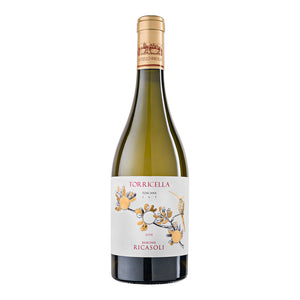 Type: White
Country: Italy
Region: Tuscany
Grape Variety: 80% Chardonnay, 20% Sauvignon Blanc
Alcohol Percentage: 13%
Viticulture: Organic Farming
Rating: 91 Robert Parker Points (2016)
Climate: Mediterranean climate, characterised by hot, dry summers, mild winters, little snow, and abundant sunshine
Terroir: Ricasoli's vineyards are all on hills, with altitudes ranging from 180 to 490 meters above sea level, mostly with a south/southwest exposure
Ageing: Cold maceration at 5°C for few hours without oxygen. Fermentation in stainless steel at 12°C – 16°C (53.6°-60.8°F) for 30 days. Ageing for 9 months in wood with skin contact.
Color: Straw yellow color with golden reflections
Nose: Acacia honey, vanilla beans and delicate spices hints on the nose
Palate: Velvety and enfolding in the mouth with elegant acidity, which led to a beautiful and persistent finish. An excellent Tuscan wine to drink after a long ageing
About the Winery:
Ricasoli is the most representative wine producer in the Chianti Classico area. With its gentle hills, velvety valleys and thick woodlands of oaks and chestnuts, the 1,200 hectares of property include almost 240 hectares of vineyards and 26 of olive groves.
Francesco Ricasoli, current owner and President of the company, has generated new ideas and concepts to render the vineyards sustainable. The ongoing study of soil types and the clonal selection of the Brolio Sangiovese are among his greatest passions, and he has totally renovated the vineyards and completely mapped them.
The new wines are therefore the expression of research carried out with the same scientific rigor of his illustrious ancestor but with a contemporary spirit, like a runner receiving the baton and carrying it forward with renewed energy.