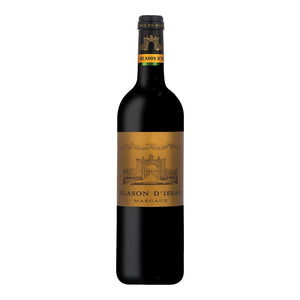 Type: Red
Country: France
Region: Bordeaux, Margaux
Grape Variety: 60% Merlot, 40% Cabernet Sauvignon
Alcohol Percentage: 13%
Ratings: 95 Wine Enthusiast | 93 James Suckling Points
Color: Beautiful red with purple hues
Nose: Complex nose of blueberry and blackberry fruit intermixed with some liquorice and camphor
Palate: Full-bodied, layered with round tannins that are well-integrated. Stunning, lush, sexy and very, very forward, an ideal second wine that reflects its appellation of origin but delivers gorgeous, even luxurious fruit levels.
About the Winery:
Ch. d`Issan is a Third Growth Margaux property that produces about 100,000 bottles each year. Its richly aromatic and silky-textured Clarets are often amongst the best of the appellation.
The estate's history dates back to 1152 when the wine was officially served at the wedding of Eleanor of Aquitaine to King Henry II, the beginning of a special relationship between Bordeaux and England. The d'Essenault family owned the estate for over five generations and rebuilt the existing château at the end of the 16th century. Surrounded by a moat, it is one of the oldest châteaux in the region and is frequently described as the most romantic in the Médoc.
In 1945 the Cruse family – already established in the Médoc for more than 150 years – purchased the property. Today Emmanuel Cruse runs the estate with the Lorenzetti family (owners of Chx Pédesclaux and Ladouys). They own 44 hectares in Margaux, planted with 62 percent Cabernet Sauvignon and 38 percent Merlot. The wine spends between 16 and 18 months in oak (around 50 percent new).