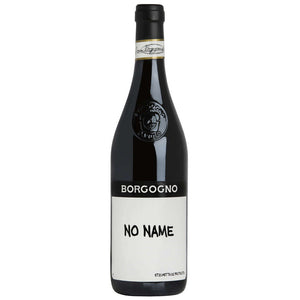 Please don't take "No Name" literally! 
Because this is a high-class wine from the house of Borgogno. 
The juicy red oscillates between ruby ​​and garnet with carmine reflections and powerfully fills your glass. 
After a bit of fresh air, the extensive bouquet ranges from pickled plums to caramelized dates and dark red sour cherries to Mediterranean herbs. 
Nuances of cedar wood, coffee and dark chocolate refine the aroma. 
An intense, dry aroma with lots of spicy components dominates the palate, but cherry and plum also hit your taste buds. 
The "No Name" stands for a fiery finish with a mineral structure. 
It first tanked its strength with at least three years of aging in oak barrels and then a further two years in the bottle.