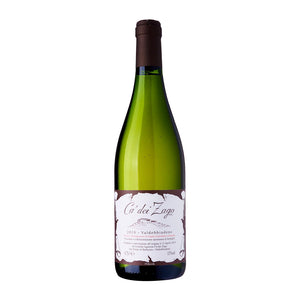 Type: Sparkling, Prosecco
Country: Italy
Region: Veneto, Valdobbiadene
Grape Variety: 100% Glera
Alcohol Percentage: 11%
Viticulture: Natural Wine Producer | Biodynamic Farming | Vegan Friendly
Rating: 93 Wine Enthusiast Points (2016)
Climate: Climate is moderate-warm, influenced by the vicinity of both the Alpine Dolomites and the Adriatic Sea

Terroir: Vineyard faces south, south-west, with an altitude 250m. The soil composition is of clay and limestone

Ageing: Soft pressing of the grapes, decantation of the must for 24 hours. Fermentation in concrete tanks on the lees for the whole winter season. The wine doesn't go through other pouring and is decanted in tanks with periodical bâtonnage, in order to keep it homogeneous and let the yeast work. The wine exposure to the winter cold, in addition to the contact with the lees, helps the production of the natural tartaric and protein stability characteristic of the Glera grape.
Color: Straw yellow with fine effervescence

Nose: Inviting scents of ripe orchard fruit, citrus, bread crust, Alpine herb and a whiff of crushed stone

Palate: The refreshing frothy palate delivers lime, tangerine zest, green apple and a hint of lemon drop alongside bright acidity. A mineral note backs up the finish
About the Winery:
Since 1924, Ca' dei Zago has farmed 15 hectares of vineyard in Valdobbiadene, the heart of Prosecco DOCG production. Owners Christian and Marika emplo traditional production methods on hills located at an elevation of around 250 metres above sea level. Their soil rich in clay and limestone, while climate is moderate-warm, influenced by the vicinity of both the Alpine Dolomites and the Adriatic Sea. Small and high quality biodynamic production, handcrafted from harvest to bottling.
The new wines are therefore the expression of research carried out with the same scientific rigor of his illustrious ancestor but with a contemporary spirit, like a runner receiving the baton and carrying it forward with renewed energy.