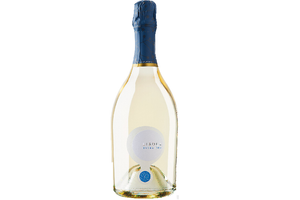 In 1962, 19 winemakers from the Italian region of San Marzano came together to found the 'Cantina San Marzano'. Over the years, this cooperative has grown to the point of attracting 1200 wine producers who, using modern equipment and advanced technology, deliver elegant labels with the utmost respect for Puglia's wine traditions. The winery is at the heart of the Primitivo di Manduria, a strip of land suspended between two seas, where vines and flower boxes grow side by side in a blanket of red earth.
____________________________________________________________________________________________
Description
Liboll Spumante Extra Dry
At sight Liboll Spumante Extra Dry has a straw yellow color with clear bright green reflections and a delicate and persistent perlage. The intense scent of peach and floral notes of elderberry and sage. On the palate it gives liveliness and freshness.
Technical features
Wine type: Extra Dry Sparkling Wine.
Color: White.
Alcohol content:  11.5%
Grapes:  80% Chardonnay, 10% Bombino, 10% Minutolo.
Training system: Counter espalier (4,000 vines per hectare).
Production area:  Liboll Spumante Extra Dry comes from selected vineyards in the territory of San Marzano, in Salento, in Puglia, about 150 m above sea level. These places are characterized by medium-high temperatures, particularly low rainfall and strong temperature variations, as well as for the soil with a mixed composition, tending to limestone.
Harvest period : The harvest period for its production begins at the end of August. It is a type of manual and morning harvest, slightly anticipated in order to preserve the acidity.

Vinification:  The vinification is obtained from softly pressed grapes, using only the first fraction of free-run must (55%) which is fermented at a low temperature. The wine produced is subsequently processed in an autoclave with the usual "Charmat" or Martinotti sparkling method. After the second fermentation it remains for about a month in an autoclave on its own yeasts.

Refinement: The refinement process takes place in the bottle at a controlled temperature.

Aging potential: This wine maintains its organoleptic characteristics for 2 years.
Organoleptic characteristics
The typical color is straw yellow with some greenish reflections; the perlage is fine and continuous. The scent of this sparkling wine is intense, strong, pleasant and fruity with white peach, rich in floral notes of elderberry and aromatic notes of sage. The taste stands out for its freshness and sparklingness; round and well balanced, it has a remarkable personality and pleasantness.
Pairings: It is excellent to accompany aperitifs, appetizers and all seafood first courses.

Usability: To be served at 6-8 ° C.