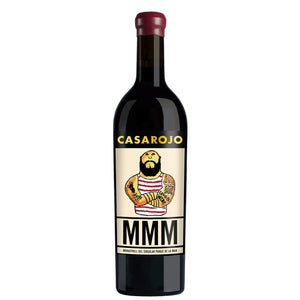 From unique vineyards of Monastrell del Paraje de La Raja, in the Murcian highlands. 
The 2018 vintage of Macho Man Monastrell is mature, complex and elegant. 
With a garnet red color. 
On the nose, the balsamic and mentholated notes stand out along with those of ripe red fruits (plum, blackberries) and hints of liquorice and toasted almonds. 
Aromas that reflect the terrain, with well-integrated hints of scrubland (rosemary, thyme, lavender). 
In the mouth it shows a wonderful freshness and elegance with that balanced step and a finish typical of great wines.
Aging:  12 months of aging in French oak barrels.
Grade:  14.5% Vol.
View:  Cherry red with purple trim.
Nose:  Ripe, complex, elegant, with its balsamic and minty notes accompanied by compote red fruits (cherries and plums) and 
Mouth:  Happy with a wonderful acidity and final freshness.


Tasting Note from Fairley's Wines ...
The award winning Red House Macho Man Monastrell appears intense garnet with purple highlights, notes of sweet balsamic and peppery spice, mingled with persistent red and black fruit on the nose. The palate is full with silky blackberry fruit and sweet plum jam, toasted spice, finishing particularly fetching with even more sweet fruit and austere of smoke and spice. An excellent red that will age well 5-7 years and please allow to breathe 1-2 hours. Best served with veal or even pizza.