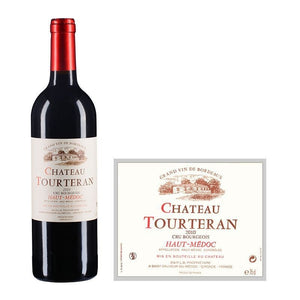 Features

Taste :
Currant, blackberry, cherry, bell pepper, olive, asparagus, spice, ginger, oak, vanilla, black cherry, plum, smoke, toast, tar, tobacco, raspberry, cassis, violet, pepper and green bean

Nose :
Currant, blackberry, cherry, cedar, cigar box, violet, rose, truffle, earth, coffee, leather, tobacco, broccoli, berry and flower


Rating:
90 Wine Enthusiast
"Powerful, concentrated wine, a very solid Cabernet-dominated wine. It has dark tannins, the black currant fruit still hiding in the background. Dark and dense, it's destined for good aging, at least over the next six years. -RV"
Product Description:
"Belonging to the same owner as the Chateau Ramage La Batisse, Chateau Tourteran produces a very aromatic wine, vinified according to more traditional methods." - Importer
Awards:
Decanter World Wine Awards, 2013: Commended

Hong Kong International Wine & Spirit Competition, 2013: Bronze

International Wine Challenge, 2013: Commended

Notes: Produced by Chateau Ramage la Batisse.