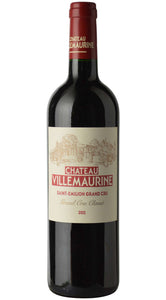 Source:218, The Wine Advocate; Issue Date: 30th Apr 2015

 

(RP-92)
Twenty years ago, this used to be one of my candidates for the worst wine from a top terroir in St.-Emilion. Things have changed incredibly since the acquisition of this property by Justin Onclin. The terroir is fabulously situated just adjacent to the walls of this medieval village, and the wine has gone from strength-to-strength. The 2012 has a dense purple color, a rocky and chalky minerality, medium to full body, and is long, rich and intense, elegant yet noble. Consumers have to be pleased that this long-time underachiever has finally raised its game under the new ownership. This is a property to seek out in St.-Emilion. Drink this 2012 over the next 15-20 years.
Drink Date 2015 - 2035
Source: jamessuckling.com. Issue Date: February 22, 2015

 

(JS-91)
A red with a tight structure and intensity for 2012. Plenty of wet earth, walnut and berry character. Long and flavorful. Better in 2017.
The vinification of Château Villemaurine is carefully adapted to the characteristics of each vintage. Justin Onclin's wine-growing philosophy can be summed up as "profound respect for the estate's terroir in combination with the search for excellence." Complexity, pedigree and finesse in the wines are sought above all else. Typically long on the palate, mineral and elegant, the wines of Château Villemaurine epitomise every year the sublime character of the finest Saint-Emilions and are the expression of a truly stunning terroir.

2012 GROWING SEASON

The winter began with mild weather and was then followed by one of the coldest Februarys since 1963. Vine vegetation growth that had benefited from the clement January weather then came to a halt. A cool, rainy April caused a slow, uneven budding and then a quite mild month of May helped the vine to shoot quickly. The ensuing flowering was late, taking place in cool and rainy weather. The heterogeneity observed at the time of budding was now confirmed at this stage of the vine cycle. The July weather was cool, compounding the lateness in the cycle and forcing us to carry out high precision vine canopy work in which each plot underwent de-leafing and crop thinning according to its stage of development and health. Hot and sunny weather in August followed by a September in which hot days alternated with cool nights enhanced the ripening process, the concentration of the berries and their aromatic expression. At the end of September, typical Atlantic weather set in, followed by a number of fine days at the beginning of October which allowed the grapes to gain extra ripeness. Our clay-limestone terroir, which drains these surpluses of water, enabled us to begin the harvest with our vineyard in good health.
VINEYARD
SURFACE AREA : 12 hectares, of which 7 hectares are Grand Cru Classé.
SITUATION : the Saint-Emilion plateau, a few metres from the village.
SOIL : clay-limestone over Asteria limestone.
DENSITY OF PLANTATION : 7700 vines per hectare.
GRAPE COMPOSITION : 80% Merlot, 20% Cabernet-Franc.
AVERAGE AGE OF THE VINES : 30 years.
VINE-GROWING METHODS : traditional, implementing principles of sustainable agriculture .
HARVESTING : manual, in small crates, double sorting by hand and by machine in the cellar, total de-stemming, gravity flow vat-filling of uncrushed berries.
VINIFICATION
VATTING : in double-walled 68 hl stainless steel vats for an average of 20 to 25 days. FERMENTATIONS : alcoholic in stainless steel vats, malo-lactic in oak barrels.
AGEING : from 16 to 18 months in French oak barrels, 70 to 90% new oak and the rest in second-fill barrels, the proportion varying according to the vintage.
AVERAGE YIELD : 30 hl/ha.
BOTTLING : at the estate, 18 to 20 months on average after the harvest.
AVERAGE ANNUAL PRODUCTION OF CHÂTEAU VILLEMAURINE : 30,000 bottles. AVERAGE ANNUAL PRODUCTION OF ANGELOTS DE VILLEMAURINE (Second Wine) : 20,000 bottles.
SECOND WINE : Les Angelots de Villemaurine