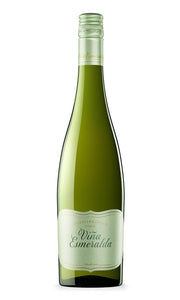 From the ingenious union between Catalonia and 
Alsace,
 explosive colors and flavors are born that leave their mark.


It owes its name to the emerald green color of the Mediterranean. A perfect alchemy between the fruity sweetness of Moscatel and the spicy touch of Gewürztraminer. A Spanish wine ideal for an aperitif and for dishes based on seafood and shellfish. A concentrate of freshness with every sip. ADORABLE.

Grape variety : 
85% Moscatel, 15% Gewurztraminer
Character : 
Very aromatic dry white wine
To the eye : 
Straw yellow with lemon reflections
On the nose : 
Aromas of fresh fruits and white flowers (orange blossom)
In the mouth : 
Silky, with floral and greedy notes of yellow fruits