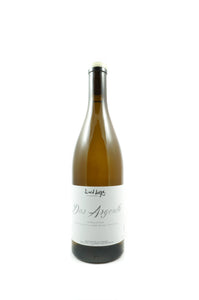 David Large is a hereditary winemaker whose family history goes back to 1840. He has diplomas from elite schools and experience working with great people, but, nevertheless, he believes that becoming a great winemaker is a process of "learning". The vineyards of David Large are located around Montmelas, a beautiful mountainous area in the southwest of Beaujolais. Soil types are predominantly granite, clay and calcareous, pigmented with iron oxide. The vines also benefit from volcanic rock, especially suited to Gamay.
David Large does everything himself, right down to driving a delivery truck and composing the poems inscribed on the side of his wine labels, because David is a passionate rapper and a fan of poetry. Even the names of individual wines are "personal" for him, having a unique history. Large's obsession with terroir means he vinifies and bottles nearly every site separately, resulting in as many as 18 different cuvetés from just 5 hectares of limited-edition vineyards.
Tasting Notes

Color
Wine of bright yellow color.
Taste
The taste of the wine is elegant, intense, dry, oily, complex, with high acidity, hints of minerals, nuts, butter and a very pleasant aftertaste.
Aroma
The rich aroma of the wine demonstrates the tones of flowers, yellow fruits, honey, minerals, white pepper, almonds, freshly baked buns and butter.
Gastronomy
The wine goes well with seafood, especially shellfish and oysters, white meat, fish, smoked meats and soft cheeses.
Interesting Facts
Organic dry white wine "Dos Argente" is made from Chardonnay grapes grown in Beaujolais Village in a 2-hectare vineyard located at an altitude of 400 meters above sea level. Harvested by hand. In the manufacture of wine used spontaneous fermentation under the influence of wild yeast, taking place at low temperatures in steel tanks. The bottling takes place without fining and without filtration, with the lowest possible sulfation.