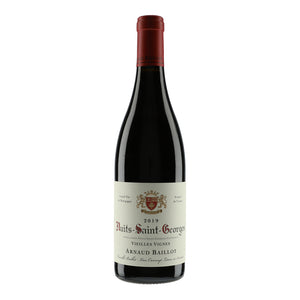 Type: Red
Country: France
Region: Burgundy
Grape Variety: 100% Pinot Noir
Alcohol Percentage: 13.5%
Viticulture: Organic Farming
Climate: Continental climate with slightly higher temperatures and rainfall
Terroir: Vineyard is located in the AOC Nuits-Saint-Georges Village with an eastern exposure, on a soilbed composed of limestone and marl.
Ageing: Sustainable agriculture. Manual harvesting with grape sorting and parcel-by-parcel ripeness monitoring. Traditional fermentation of 15 days in stainless steel tank. No punching (pigeage), pumping over twice a day until the end of fermentation. Aged for 12 months in Burgundy oak (25% new oak). Bottled unfiltered
Color: Deep red
Nose: Powerful and elegant aromas with notes of cherry and blackberry, as well as hints of cedarwood
Palate: Beautiful balance between structure and softness with a long aftertaste reminiscent of fruit syrups and mild spices



About the Winery: Domaine Arnaud Baillot is located in Beaune, the heart of the Côte d'Or.
Passionate about the diversity of wines the Burgundy region has to offer, Arnaud Baillot has teamed up with his wife Laure (grandaughter of Domaine Hudelot-Noëllat in Chambolle-Musigny) to produce a spectacular range of villages and crus Burgundy wines. Arnaud has been hands-on all the way, from selecting the origin of the grapes, overviewing the winemaking process, to choosing the type of barrels and ageing time for each individual wine. In 2017, Arnaud and Laure acquired a small vineyard in Côte de Beaune, making their first step in having their own Estate produced wines at Domaine Arnaud Baillot.  Their philosophy is to respect and promote the complexity of the Burgundy wine region while producing terroir-driven wines.
Today, they now present their fourth vintage of their limited edition small-batch Burgundy crus.