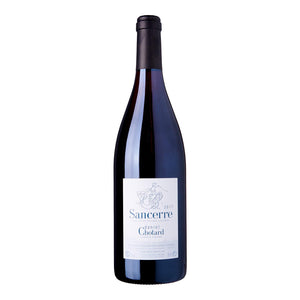 Type: Red
Country: France
Region: Loire Valley
Grape Variety: 100% Pinot Noir
Alcohol Percentage: 15%
Viticulture: Organic Farming
Climate: Semi-continental climate
Terroir: Soil base of clay, Limestone, Kimmeridgian marl
Ageing: They are fermented in stainless steel tanks with a vatting of 3 weeks in order to extract at best the color and the aromas of this grape. Malolactic fermentations and aging are partially done in vats and partly in oak barrels. This wine is bottled on average 15 months after harvest.
Color: Garnet
Nose: Nose is reminiscent of garden fruit such as blackcurrant, redcurrant and Morello cherry
Palate: Round and long on the palate with peppery notes
About the Winery:
Winemakers since 1789, Simon is now handling the vineyard with great care to revive the style of the past, using organic agricultural practices, harvests late, prefers long lees ageing and benefits from flint as well as classic Kimmeridgian soils.
According to Chotard "Wood masks the authenticity of the grapes and the vineyard they came 'from' so these are hardcore, terrior wines: uncompromising, pure Sancerre…