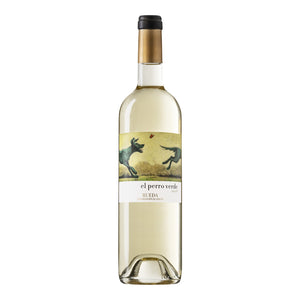 Type: White
Country: Spain
Region: Rueda
Grape Variety: 100 % Verdejo
Alcohol Percentage: 13%
Viticulture: Vegan Friendly
Climate: Continental climate influenced by the influence of the Atlantic Ocean
Terroir: Vineyards grow at an altitude of between 700 to 800m, on a soilbed of slightly compact limestone.
Ageing: The grapes were destemmed and crushed and then macerate for 6 hours, then were pressed the same day of their reception during night under low temperature. The 24 hours settling and fermentation took place in stainless steel tanks under controlled temperature
Color: Beautiful, very bright, clean and gold in colour
Nose: On the nose, it shows intense and seductive aromas of white flowers, tropical and stone fruits reminiscent of pineapple, passion fruit and peach with citric notes of lemon peel and aromatic herbs like fennel and mint
Palate: On the palate, it displays an explosion of fresh fruit with a silky texture and a vibrant freshness that invites you to have another sip. Intense and fresh lime aromas and delicate and pleasant saline hints on the aftertaste. The most fresh, vibrant and crystalline white wine!
About the Winery: From a region famed for the Verdejo based wines, the El Perro Verde is truly a stand-out. Visiting a high altitude vineyard (between 700m – 800m) with loosely packed soil with plenty of stone and limestone, Angel Lorenzo Cachazo wanted to express the aromatic potential of the Verdejo variety. He founded the winery in 2005 with that goal in mind and within 15 years, he was able to create one of the best Verdejo wine Rueda has seen. 100% Verdejo sourced from three parcels, consisting of old bush vines near La Seca. Average age of the vines range from 15 to 35 years. Fermented and aged in stainless-steel tanks. The El Perro Verde is truly one of the best and most highly sought after white wine of the region.