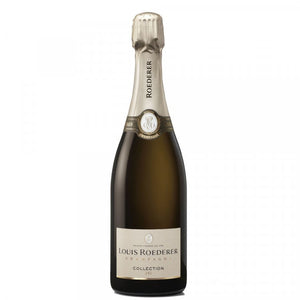 Winemaker Notes
The Collection 242 blend is dominated by Chardonnay which was of exceptional quality in the 2017 vintage. The perfectly ripe Chardonnay grapes lend the wine its aromas of ripe, sweet fruit complemented by subtle oaky notes. The palate is rich and ripe with a luxurious texture that coats the palate, the signature of an outstanding Chardonnay. The Pinot noir and Meunier grapes from the Vallée de la Marne complete the wine's broad, luscious, smooth and juicy character. The finish is energetic and fresh.
Blend: 42% Chardonnay, 36% Pinot Noir, 22% Meunier


Critical Acclaim
Aromas of cooked apple, bread dough and lemon tart follow through to a full body with round, delicious fruit and a rich, flavorful finish. Yet, it remains tight and fine with lovely, compressed bubbles. New energy and freshness. Medium-to full-bodied with layers of fruit and vivid intensity. 42% chardonnay, 36% pinot noir and 22% pinot meunier. 8 grams dosage. Four years on the less. A new-format non-vintage that designates the year of the 242nd harvest, 2017, plus reserve wine of 2009, 2011, 2013, 2014, 2015 and 2016. Drink or hold.


Softly shimmering straw gold, green tints, with a delicate filigree dancing at will around the glass. The nose is gently authoritative; spring flowers garlanding stone fruit, a hint of hawthorn maybe, then lemongrass. The palate has encyclopaedic depth, the intricacies of the Perpetual Reserve weaving their early magic; almond, sloe, gingerbread and apples; the finish has a pleasing twist of bitterness, courtesy of the small percentage of oak-aged reserve wine. Maybe the dosage (8g/L) can come down even further, such is the engaging and subtle complexity harnessed elsewhere?