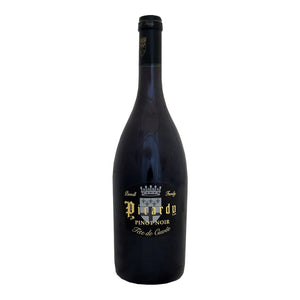 Type: Red
Country: Australia
Region: Pemberton, Western Australia
Grape Variety: 100% Pinot Noir
Alcohol Percentage: 13%
Climate: Cool climate influenced by its southerly location and high altitude, creating a sustained ripening period
Terroir: The Picardy vineyard is situated on a gentle north-facing slope at an altitude of 300 metres and 35 kilometres from the Southern Ocean. Vines like on a soilbed of well-drained loom and gravel
Ageing: To provide this wine with considerable structure and longevity, it is cold macerated for longer periods and fermented with 30% whole bunch fruit to extract more tannin. The resultant wine is then matured in new to four-year-old oak for 10 months. After barrel maturation, it is given a very light filtration and bottled. It is then held in the bottle until the Pannell Family feel that it is showing its optimum potential.
Color: Bright Red
Nose: Intriguing nose of cherry liqueur, red fruits and cherries.
Palate: Rich and full-bodied with intense notes of fruits, cherries and raspberries. Pleasantly long finish
About the Winery:
Picardy is one of Australia's leading premium boutique wine producers, established in 1993 in the Pemberton region of Western Australia. Picardy is owned and operated by Bill, Sandra, and Dan Pannell. Bill and Sandra were pioneers of the Margaret River region, establishing Moss Wood vineyard and winery in 1969. Moss Wood went on to be a driving force in establishing Margaret River as one of Australia's important growing regions. Picardy strives to continue this tradition of wine making quality and excellence.
Picardy produces Sauvignon Blanc Semillon, Chardonnay, Pinot Noir, Shiraz and Merlot, Cabernet Sauvignon, Cabernet Franc wines. All wines bearing the Picardy label are entirely from our single vineyard property in Pemberton. Picardy is situated in the tranquil region of Pemberton on deep gravelly loamy soils. The region offers high altitude and close proximity to the ocean (for cooling summer breezes), thereby providing ideal conditions for cool climate wine production. In the vineyard, Picardy follows sustainable management practices. All Picardy fruit is estate grown, unirrigated, cane-pruned and handpicked.