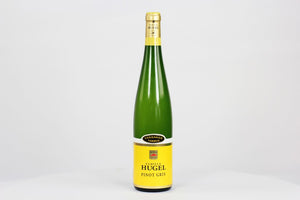 AOC Alsace
great specialty for several generations of the Hugel family, who drafted the law on late harvest. Wine with great power and longevity to taste religiously by itself during a special occasion.
Quick View :
These wines made from overripe grapes are picked well after the classic vintage and in the greatest years only. The action of noble rot (botrytis cinerea) gives them an almost unlimited ability to age. They are part of the elite of the greatest wines in France.
The vintage :
Every wine producer in the world must have dreamed of a having a memorable vintage to bear the magic number 2000. In Alsace we were not disappointed, as 2000 was one of the best vintages of recent years, of normal size and with very good overall ripeness levels for all grape varieties.

Light rain in mid-October prevented us from making a truly outstanding vintage, but thanks to reasonable yields and excellent ripeness we have achieved great consistency across the range. In our own estate, the results are above our expectations, with small quantities of SGN wines that will long be remembered. Acidity levels are excellent and should give well balanced wines with good structure.

In the vineyard :
Produced in a selection of the finest plots of the Hugel estate in lower and heavier parts of the grand cru Sporen, rich in clay and in our best plots in the chalky Pflostig.
Harvest date : 25 Oct. 2000 Potential alcohol : 17,0°
Winemaking :
The grapes are taken in small tubs to the presses, which are filled by gravity, without any pumping or other mechanical intervention.
After pressing, the must is decanted for a few hours, then fermented in temperature-controlled barrels or vats (at 18 to 24°C). The wine is racked just once, before natural clarification during the course of the winter. The following spring, the wine is lightly filtered just before bottling, and the bottles are then aged extensively in our cellars until released for sale.
Grapes :
Pinot Gris : 100%