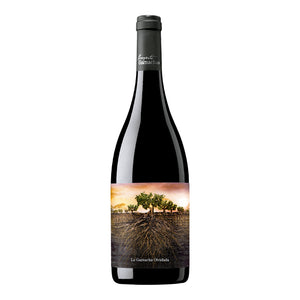 Type: Red
Country: Spain
Region: Aragon
Grape Variety: 100% Garnacha
Alcohol Percentage: 14.5%
Viticulture: Organic Farming
Origin: This project is a tribute to grenache, a variety that was almost forgotten because of its difficult cultivation. Proyecto Garnachas is a collection of wines from 5 different Spanish regions. Each wine expresses the unique characteristics of its region.
Terroir: Goblet-trained vineyard, planted in 1940, located on slopes with ferrous-clay soil in Valle del Ribota
Ageing: Maceration for 17 days, controlled fermentation in 15.000 kg concrete deposits at the temperature bellow 25ºC. 10 months ageing in new French oak barrels
Color: Mature red cherry with deep edges
Nose: Intense with dark red and black fruits with roasted and cocoa notes
Palate: Smooth and fruity wine, complemented with gentle tannins. Intensive character that fills the mouth and leaves a long aftertaste
About the Winery:
'Proyecto Garnachas de España' is a journey through Garnacha history from the perspective of Raul Acha, Vintae oenologist and passionate advocate of the variety. His journey begins in his family home in Cárdenas (La Rioja), where his grandfather planted Garnacha vineyards over one hundred years ago.
To prove their relevance, Raul decides to look for similar cases of old Garnacha vineyards in a journey through the Ebro basin. Along the way, he found some of the vineyards that best reflect the essence of this variety and will engage in conversation with different winegrowers who will tell him about the local Garnacha history and its evolution.
The result of this adventure is a very personal collection of monovarietal wines that express perfectly the versatility, the nuances and the singularities typical of each area of production.
The result is three modern wines, made respecting the minimum intervention both in the vineyard and in the cellar. The proof that by combining the power of Tinta de Toro with the gentleness of the land we come from, it is possible to produce an intense but elegant wine.

Gold Medal Grenaches du Monde Awards 2014. 2011 vintage.
Silver Medal Grenaches du Monde Awards 2017. 2013 vintage.
92 points Jamie Goode ratings. 2013 vintage.
90 points Decanter Magazine. Sarah Jane Evans MW. March 2017. 2013 vintage.
90 points Guía Peñín ratings 2012.