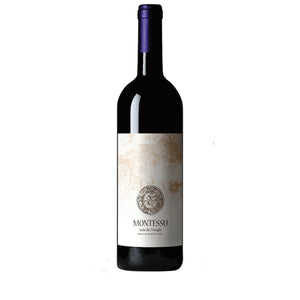 A Sardinian Sassicaia in the making
This so-called "Sardinian Sassicaia" is made by the same people who brought us the legendary Tuscan red wine. 
60% Carignano – 10% Cabernet Sauvignon 
10% Cabernet Franc – 10% Merlot – 10% Syrah

Agricola Punica, one of the most renowned names in the world in wine production is a joint venture between Dr. Sebastiano Rosa, the Santadi winery, Tenuta San Guido, Antonello Pilloni, President of Santadi and the legendary Tuscan winemaker Giacomo Tachis.  It was the latter that thought of Sardinia and convinced everyone that he could produce a great wine from grapes grown in the Sulcis.  In 2002, Agricola Punica acquired land divided into two estates: Barrua and Narcao, located in south-western Sardinia, in an area known as Sulcis Southern. Everyone knew well what he was capable with this land and after the first harvest all agreed they had a resounding wine.

The quality of the Carignano grape is excellent in the Sulcis area, not only in terms of colour, but also for the softness of its soluble compounds – from the tannins to the consistently low and elegant acidity and the smoothness of its main components. Its polyphenolic apparel is of a distinguishably sweet, extremely delicate, round tannin weave chromatically embroidered with refined anthocyanins.
Tasting Notes
Lively, deep ruby red; nature's gift of colour. Complex scents of mature red fruits (mainly black cherry), spices, notes of liquorice and hints of myrtle. An elegant wine that shows exceptional workmanship.


91  Points
Aromas of blueberries, flowers and stones. Medium to full body, firm and silky tannins and a flavorful and refined finish. Always outstanding. – October 22, 2018