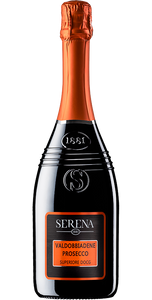 The Serena Valdobbiadene Prosecco DOCG Extra Dry is made with 85% Glera grapes and with other white berried blends for the remainder.
The wine is obtained by harvesting grapes from the Valdobbiadene area. The manufacturing process involves the use of the Charmat method, i.e. with second fermentation in a pressurized tank.
Bright straw yellow in colour, it has a lively perlage with hints of rose, jasmine, wisteria and acacia flowers. Fresh on the palate, it recalls tropical fruits and retains good minerality as well as a good persistence.
Ideal to open the meal, it goes well with raw fish and herb risotto.
FULL NAME: Valdobbiadene Prosecco Superiore Extra Dry DOCG Serena 1881
APPELLATION: Prosecco Superiore di Conegliano Valdobbiadene
GRAPE: Glera, Other grapes
AROMAS: White flowers, Acacia flowers, Apple
SULFITES: Contains sulfites