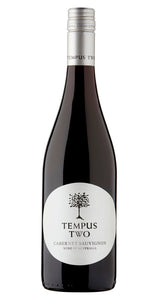 Tempus Two produces wines that blend modern style with classic finesse. Tempus Two's roots are firmly planted in one of Australia's oldest wine regions and one of Australia's best-known wine families, the McGuigan Family.

The Tempus Two Silver Series Cabernet Sauvignon is a medium to full bodied wine with generous length and a persistent, smooth finish.  Alc 13%
Fusing quality grapes with contemporary winemaking, wines with distinct, varietal character. The fruit was crushed and de-stemmed to varying sizes and styles where the fruit was fermented on oak at cooler temperatures which allows the fruit flavours to be nurtured and enables retention of varietal characteristics. Post fermentation most of the wine is matured in stainless steel tanks and the remaining is transferred onto French and American oak.
Aroma: Intense aromas of dark fruits followed by hints of mocha spice.
Palate: Blackberry and plum fruit flavours dominate upfront lead by notes of cinnamon and clove. The acid is balanced, and tannins are evident, but are ripe and smooth.