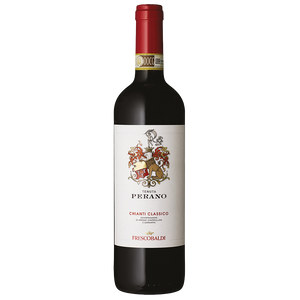 Property of the Frescobaldi, a family that has distinguished itself in the Tuscan wine world for more than 700 years, the Tenuta Perano delivers here a serious chianti, where the profile on notes of tart cherry, raisin, fig and blond tobacco pleasantly surprise the palate. 
Added to this is a touch of anise and spice as well as a subtle woody note.

A luminous medium ruby-red in colour, this delicious wine is beautifully balanced, sporting lively but harmonious acidity nicely extending the red and dark berry and herbal flavours on the long, perfumed finish. A very strong violet top-note characterizes the wine from start to finish as does its juiciness and its overt fruitiness, so much so that already after the first glass you are left wishing for a refill as soon as possible.