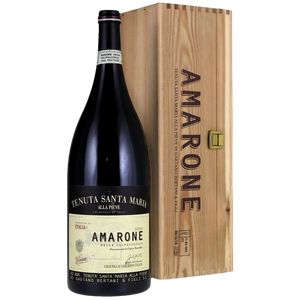 97/100 - Decanter World Wine Awards 
(2013 vintage)
Gold - Mundus Vini 
(2013 vintage)
 Best in Show - London Wine Show 
(2013 vintage)
Gold - London Wine Show 
(2013 vintage)
94/100 James Suckling 
(2013 vintage)
94/100 Gilbert & Galliard 
(2013 vintage)
90/100 '5 Star Wines' - VinitalyDecanter Magazine
 - World Wine Awards "A tiny touch of reduction opens out into a rhubarb and game mixture with a leathery lavender veneer and a flash of toasted nuts. Drinking Window 2017 - 2022"
Wine Enthusiast
 "Vintner Gaetano Bertani delivers a dark and delicious Amarone with bright fruit tones, loads of dried spice, leather and tobacco. The wine presents a soft, sweet sensation in the mouth thanks to its chewy tannins and fruity finish." (2006 vintage)
Charles Scicolone
 "It is a complex and elegant wine with hints of dried cherries, prunes and spice. The finish is very long and there is a lingering aftertaste. " (2007 vintage)
Charles Scicolone
 "Often I am asked which wine I drink with Thanksgiving dinner when I have turkey and all the trimmings. There are, of course, many different choices that can work very well but if I had to choose one it would be Amarone. Amarone can be expensive but it has warm aromas and flavours that make it perfect for the colder weather and all the different dishes that accompany the turkey. Here is one Amarone that I like a lot [Tenuta Santa Maria Amarone Della Valpolicella]. "
The Winemaker - "To the palate, it has warmth and subtlety, well-structured and with a high alcohol content, balanced by velvety tannins and an elegant acidity and freshness. The Amarone is obtained using the traditional appassimento method, a natural drying process of Corvina, Rondinella and Corvinone grapes, and long barrel aging, giving it a unique and immediately recognizable taste. It represents the full expression of the Veronese tradition and the more than century-old family heritage."
75% Corvina, 10% Rondinella and 15% Corvinone
Centuries old, Tenuta Santa Maria all Pieve is located in the heart of the Valpolicella Classica. The 100-acre producer is comprised of two estates, one in the Valpolicella Classico zone and the second in the Illasi Valley. Tenuta Santa Maria all Pieve was established by Gaetano Bertani in 1850 and today it is owned and operated by his descendants, Gaetano Bertani and his sons Giovanni and Guglielmo. Since its sixteenth-century origins this elegant estate has been known for the production of fine wines, especially for its for Amarone Classico and Valpolicella Ripasso. It has a stunning chateau and walled vineyards. Since the 1800's the estate has been making wines using the Guyot Method, a technique with an emphasis on high density, and low yield harvests.
Amarone Della Valpolicella is an intensely flavored dry red wine made from dried (passito) grapes. It was awarded its prestigious DOCG appellation status in 2009. It is made in the Veneto region of northeastern Italy and is one of the region's most prestigious red wines. Though Amarone wines from the Classico zone, in particular, are often described as the pinnacle, there are many top producers operating outside the Classico zone, with Romano dal Forno probably the best known.
Though lush, high alcohol content red wines have been made in the Veneto since the ancient Greeks settled there, the popularity of Amarone over the last few decades has resulted in international demand for the wine. Amarone is typically made from 45% to 95% Corvina, blended with Rondinella and other indigenous grapes. The blend is essentially the same as for Valpolicella, but Amarone is made from dried grapes, which gives it a rich, viscous quality and an alcohol content between 14% and 20%. Though Amarone is a dry wine, there is a sweet version called Recioto Della Valpolicella. The recioto style wines are included in the DOCG, and the word "ripasso" on the label usually indicates the sweeter style.