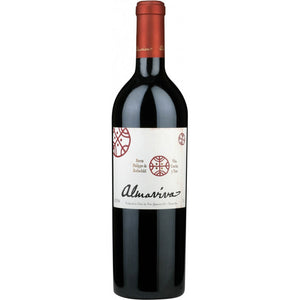 In 1997, Baroness Philippine de Rothschild, Chairman of the Advisory Board of Baron Philippe de Rothschild SA, and Eduardo Guilisasti Tagle, Chairman of Viña Concha y Toro S.A., sealed a partnership agreement with a view to create an exceptional Franco-Chilean wine called Almaviva. Produced under the joint technical supervision of both partners, the first vintage achieved immediate international success upon its launch in 1998.

Wine Advocate #222, Dec 31, 2015

The blend in 2012 was 65% Cabernet Sauvignon, 24% Carménère, 8% Cabernet Franc, 2% Petit Verdot and 1% /Merlot. The grapes are never pumped, and fermented in stainless steel vats with a total cuvaison of three to four weeks. The wine matured in 78% new French oak barrels for 19 months. As almost 90% of the grapes were picked at cooler temperatures, the wine does not really show in excess the heat of the vintage, certainly less than in other warm vintages in the past. There are notes of Mediterranean herbs and hints of tree bark over a core of ripe berries. The particularity of this terroir is to be able to achieve freshness because of its proximity to the mountains, and the ripening is slow. This 2012 is quite approachable, with its round and abundant tannins and soft acidity, flavors of ripe berries, good freshness and balance. This is less powerful and approachable than 2011.