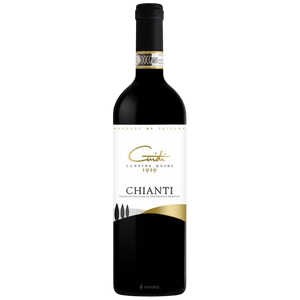 Characteristics of Chianti DOCG:
Guidi's Chianti DOCG is by its intense aroma of sweet candies, sugared almonds and barberry. Chianti wine very bright with lots of berries a little not very typical even if with age it should change significantly. Guidi's Chianti DOCG wine captivates, the saturation of the aroma with a light body and quite rich taste. The vanilla bean with clean and not very powerful tannins a little poppy, but quite nice.
Suggested pairings:
Chianti DOCG 2021 Guidi 1929 on baked pasta; tomato and bacon; pappardelle with meat sauce; pork; sfriullo of cherry tomatoes and fresh sausage; cheese; dried fruit.
Uncork Chianti DOCG 2021 Guidi 1929 and serve at 18-20° C in a Ballon glass.
DATA SHEET
Cellar: Guidi 1929
Region: Toscana
Name: Chianti DOCG
Year: 2021
Gradation: 12.50%
Size: 75cl
Temperature: 18-20 °C