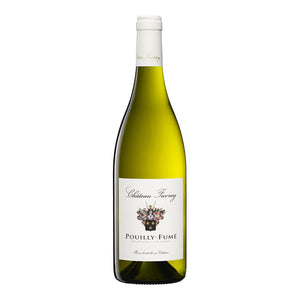 Type: White
Country: France
Region: Loire Valley
Grape Variety: 100% Sauvignon Blanc
Alcohol Percentage: 13.5%
Climate: Temperate with a continental tendency (hot summers, cold winters). Rainfall averages 24-31 inches per year
Terroir: The Oxfordian terroir consists of a limestone composed of many white pebbles
Ageing: Ageing on fine lees with thermo regulated fermentation
Color: Pale Yellow / Gold
Nose: Exceptional, expressive nose
Palate: Rich in the mouth supported with an elegant mineral freshness characteristic of the Chateau Favray terroir
About the Winery:
Château Favray was distinguished by the presence of Françoise de la Rivière, lady in waiting of Queen Margot, the wife of Henri IV. When she married François de Reugny in 1602, she became Dame de Favray. Her tombstone and effigy are preserved in the chapel of a neighbouring village. It was probably during this period that the Château Favray vineyard first flourished. A magnificient eighteenth century press testifies to the thriving winemaking activity of numerous generations. Unfortunately, the arrival of phylloxera at the end of the nineteenth century cruelly damaged our region's vineyard.
In 1980, Quentin David decided to bring the winemaking vocation back to life at Château Favray. He had immediately converted it to accommodate vineyards. Today he has 15 acres in production with the potential of developing a further 50 in the coming years. His wine is recognised as being a fine example of Pouilly-Fumé evidenced by a litany of awards in recent years.
The winery is also certified by Terra Vitis, an environmental and CSR certification recognized by the French Ministry of Agriculture indicating a holistic environmentally-conscious approach towards viticulture.