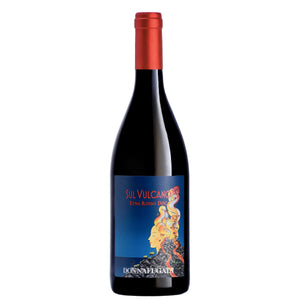 Winemaker Notes
Pale ruby red, Sul Vulcano offers an elegant bouquet with notes of wild berries (strawberry and red currant) and flowery scents, along with delicate spicy nuances of cinnamon and nutmeg. Perfect harmony between aroma and taste, with good freshness and harmonious tannins. A long, balanced finish.
This wine is perfect with Mediterranean antipasti and first courses based on eggplant or mushrooms, meat and roast stew. Pairing options are numerous: from North-American cuisine (chicken wings, hamburgers) to moderate spicy Asian dishes (beef stir-fried, dumplings) to fusion cuisine like Tex-Mex based on meat and beans.
Critical Acclaim
Aromas of dried cranberries and cherries interlace with crushed oyster shell, iron and volcanic ash. More ash and bitter berries on the palate. It's medium-bodied with elegant, silky tannins and a complex, savory character. Better in two or three years. Try after 2022.
This lively nerello mascalese offers flavors of crunchy red berries that mingle with notes of blood orange and white smoke. Fine sandpapery tannins give shape to the bright red fruit, and the wine finishes with pleasant herbal accents.