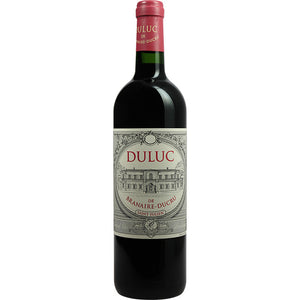 Region : Saint-Julien, Bordeaux, France
Varietal : 70% Cabernet Sauvignon, 22% Merlot, 5% Cabernet Franc and 3% Petit Verdot

Duluc is Branaire Ducru's 2nd wine and a firm favourite here at de Burgh Wines. The wine is made from the younger vines at the Chateau and offers an earlier maturing wine that has all the hallmarks of the Chateau's top wine. The 2013 is medium bodied and perfectly put together. Lovely savoury and cassis notes on the nose along with classic lead and tobacco. Balanced, elegant and delightful.
Chateau Branaire-Ducru is an extremely consistent 4th growth Chateau based in Saint Julien. The wines are Cabernet Sauvignon dominated and display great freshness, balance and complex fruit which is understated rather than "blockbuster". The vineyards, which cover 60 hectares, are at the southern end of Saint Julien and sit on deep gravel over clay soils.