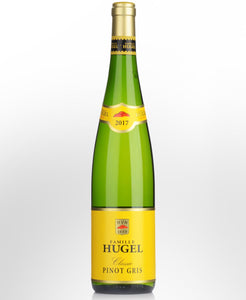 AOC Alsace
This is the Famille Hugel signature wine. This dry Riesling stands out for its finesse and frankness and is the ideal partner to fish and seafood thanks to its wonderful balance and elegance.
Quick View :
Riesling is the Pinot Noir of white wines! It is our most demanding variety as it is also the latest ripening. Dry and elegant, it expresses itself best on our steepest slopes with the most complex minerality.
The vintage :
Rarely have we seen a vintage subject to so many variations in the weather.
The season started late with a damp spring and coulure, causing a smaller than usual crop.
High temperatures and exceptional summer weather brought the grapes to perfect levels of maturity.
Right from the start of our harvest on 1 October the grapes were very healthy and ripe, and so 2013 was a classic Alsace vintage of intense, pure, well balanced wines.
Uneven weather at the very end of the harvest prevented any significant production of Late Harvest wines.
In the vineyard :
Made exclusively from hand harvested grapes from predominantly clay and limestone vineyards, in a dozen of the most favored localities in and around Riquewihr. A cool and long growing season give this unique dry wine great finesse and unequalled intensity.
Winemaking :
The grapes are taken in small tubs to the presses, which are filled by gravity, without any pumping or other mechanical intervention.
After pressing, the must is decanted for a few hours, then fermented in temperature-controlled barrels or vats (at 18 to 24°C). The wine is racked just once, before natural clarification during the course of the winter. The following spring, the wine is lightly filtered just before bottling, and the bottles are then aged in our cellars until released for sale.
The whole production of this wine is closed with DIAM the cork without the risk of cork taint.
Grapes :
Riesling : 100%