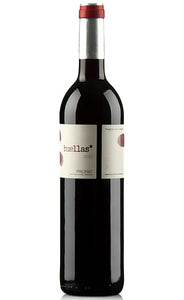 Franck is a sommelier who started making wine in 2004 at the Priorat. Now, he makes wine in many other parts of Spain. But the beginning of his path was Huellas. His first wine from Priorat.

Since then, it has come a long way. He says only to find out that one never quite learns. But we, who love this wine, seem to have learned a lot.

In Huellas, Franck wanted to keep the focus on the Priorat. So in order not to hide the wine behind a lot of barrels, Franck breeds 20% of the wine in new 500L French oak barrels (almost twice as large as normal ones) and 80% in second and third year barrels also of french oak. In total about 12 months.

Tasting :
Notice how the aromas of ripe plums and aromatic herbs are noticed. Although what we liked the most was the mouth: a solid structure that does not overwhelm but leaves a classic impression and a long and opulent finish.
What to enjoy it
with : Try it with meat and cheese dishes. Also with roasts and stews. From the other side of the screen, we tell you that this priory has enchanted us with well-spiced baked lamb.