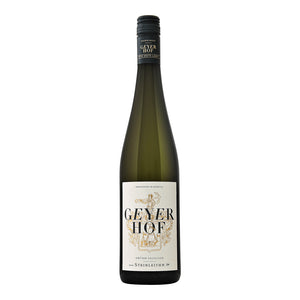 Type: White
Country: Austria
Region: Kremstal
Grape Variety: 100% Gruner Veltliner
Alcohol Percentage: 13.5%
Viticulture: Biodynamic | Certified Organic | Vegan Friendly | Natural Wine
Rating: James Suckling Top 50 Wines of Austria (2016)
Climate: Continental climate characterised by cold winters, hot dry summers, and often a large diurnal temperature flux with hot days, and cold nights
Terroir: By looking at the soil, one would hardly believe that this site produces a Veltliner which is unequalled in its depth of expression. The soil is very poor, with only a thin layer of topsoil. Here and there, bare rocks peek through the rootstocks, earning the site its name ("Stein" means "rock" or "stone"). The vines' roots directly hit granulite, a prehistoric type of rock composed of feldspar, quartz and mica. This is not where fat, round wines are made. This site's wines are rather austere, elegant, and linear, offering an incredible cellaring potential which it demonstrates beautifully in regular vertical tastings. Often we only harvest this vineyard in November. Late harvesting and very low yields provide wonderful complexity, highlighted by ripe fruity notes. Our ancestors were already well aware of the value of this vineyard which is considered among the oldest in the region.
Ageing: Hand-harvested at the beginning of November in small boxes, whole bunch pressing, slow fermentation in stainless steel tanks, storage on the full lees for 20 months, bottled in May
Color: Gold
Nose: Intense aromas of herbs
Palate: Perfectly poised, with delicate bubbles of citrus bursting on the tongue, beautifully balanced with a pleasing saline core, extraordinary aging potential
About the Winery: The history of the old estate began almost 800 years ago, in the little village of Oberfucha in Kremstal, Lower Austria. Here, winemaking has been part of the family's life for more than 14 generations, an occupation deeply rooted in the landscape. Today, as well as in the past, arable land, hedgerows, cattle, pigs, chickens and bees complete their idea of holistic farming. Vineyards cover 19 hectares in Kremstal with plots in Gaisberg, Golberg, Hoher Rain, Johannisberg, Kirchensteig, Sprinzenberg and Steinleithn. The winery strongly advocates diversity over of monoculture, with the belief that their vines are a smaller part of a larger whole.
The Geyerhof team spends over 5000 hours pruning, trellising and working on the rootstocks and canopies each year. They only hand-harvest with an emphasis on organic viticulture. Only by giving nature a place in and around the vineyard, are they able to receive back the best nature has to offer.  Over 13% of their land consist of hedges and nature conservation areas. Diverse cover crops with numerous wild herbs offer an additional habitat for a multitude of useful insects in our vineyards. The ecological interplay renders the use of insecticides unnecessary, reinforces the resilience of the vines and promotes healthy soil life.
In the cellar, Geyerhof's main goal is to safeguard the level of quality created in the vineyard and to maintain the individuality of the wines through a purposeful "low-intervention" approach. Staying well clear of "magical" enzymes, fining agents and specially cultured yeasts, they try to make do with the absolute minimum of interventions and technology. The hygienic advantages of modern cellar technology in the form of stainless steel tanks, steam cleaners and renewable energy from solar panels are of course part of the winery's modern approach – giving birth to wines with individuality and longevity.