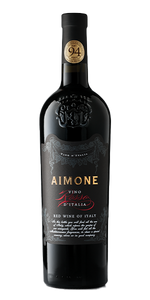 Background Facts
Aimone wine comes from the Ligurian district of Italy (North West) and was created by on the farm of Giobatta Vio (Aimone). In 2017 Aimone was awarded the Tre Bicchieri award by Gambero Rosso as best winemaker in Italy, a great honour as a Ligurian wine producer has never received this award before. This particular wine was also rated 94 (outstanding) by Italian wine expert Lucca Maroni. Aimone also thanked other Ligurian winemakers (Pippo Parodi, Aldo and Umberto Calleri) for their work which has helped Ligurian wine gain high results and inspired a new generation of winemakers.
History
Aimone was born in 1957 and in his early years was a footballer and played in Albenga's and Diano Marina's youth teams. After school and football he helped his father in the fields which specialised in vegetables, mainly artichokes. In the 1980's he began producing sage, rosemary and other herbs. These were put in trays and sold to supermarkets and proved very successful. In 1999 a wine cellar was added to the herb production and grapes were then processed at the farm and proved an immediate success. Today, what was a pastime, the farm produces many fine wines such as Ma Rene, Bon in da Bon, Grand-Pere and Aimone to name but a few. Aimone does not take full credit for this success and says that 'the wines are not created through the will of a single person, but of the whole family'. 


"In this bottle you will find all the sun of Italy, which ripens the grapes of our wineyards. You will feel all the Mediterranean fragrances, to cheer a special evening, alone or in good company"


Dark brick red color. Earthy aromas and flavors of beet salad, tuscan white beans, cedar, black tea, and hibiscus with a satiny, vibrant, dry-yet-fruity light-to-medium body and a silky, medium-long finish with overtones of roasted pecan and plum with well-integrated tannins and light oak flavor. A somewhat earthy Italian red with great texture and pair-ability.


94 POINT RATED JAMES SUCKLING
94 POINT RATED LUCA MARONI
ITALIAN PRODUCER OF YEAR BERLINER WEIN TROPHY