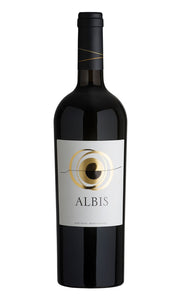 Winemaker Notes
In the nose, the wine has a classic expression of the Cabernet and Carménère of the Maipo Andes region, full of mint, graphite and chocolate with a long and elegant finish and still firm tannins, the mouth is full of herbal notes, freshness and black fruits. This great wine will evolve beautifully in the bottle.
Blend: 60% Cabernet Sauvignon, 40% Carmenere


Critical Acclaim
Plenty of blackberries and blackcurrants with hints of fresh herbs and mint. Full body, super well-integrated tannins and a fresh, clean finish. Shows balance and finesse. A blend of cabernet sauvignon and carmenere.


Albis is the most expensive wine at Haras and gets the 50% new oak treatment to prove it. Made from Cabernet Sauvignon and Carmenère, some of which is co-fermented, it's a dense, concentrated red with lots of alcohol and tannin and layers of blackberry and blackcurrant fruit. 2022-30. Alcohol: 14.5%