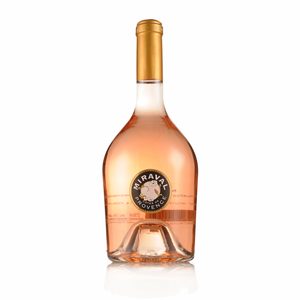 Miraval Rosé wine is from the Cotes de Provence region of France and is an absolute stunner.  Chateau Miraval is located in the small village of Correns which was the first 100% organic village in France.  Here, all of the crops, including grapes, are grown organically in this wild and picturesque landscape.  The chateau is surrounded by ancient woodlands and olive groves and is tucked away in it's own private valley.  The Perrin family has been involved in wine production at the Estate since 2012 and has overseen investment in the latest winemaking technology and innovation.
Chateau Miraval has 50 hectares of grapes on the Estate.  The majority of the fruit for the wine comes from the Chateau's 3 best parcels of land, with the remainder being sourced from nearby in the Correns region.  The terraced vineyards are at 350meters altitude, resulting in cool nights that moderate the warm days.  This allows the grapes to retain their delicate aromas and crisp acidity.  The clay and chalk soils at Miraval also accentuate grape quality as they help regulate the water supply to the vines providing water when they need it and drainage when they don't.
The grapes for Miraval Cotes de Provence Rosé are harvested by hand in the early hours of the morning and hand-sorted twice to ensure that only the best grapes make it into the Rosé.  The intense heat in July and August 2020 reduced yields and also grape size but gave more concentrated flavours to the resulting wines.  Temperature controlled stainless-steel tanks were used to ferment 95% of the wine with 5% being fermented in oak barrels.  These were then blended after the fermentation process.
Miraval Cotes de Provence Rosé is presented in very smart, bulbous bottles that are particularly striking to look at. The wine is a beautiful pale pink colour and has a refreshingly delicious bright acidity.
This beautiful rosé wine, is beautifully light, dry and crisp. The Miraval signature bottle oozes style, and despite it's size is particularly easy to pour.  Friends will just love sharing this delicious bottle!