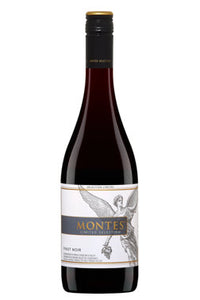 Winemakers in Chile have shown in recent years that they have got a pretty good grip on the Pinot Noir grape and many areas where this whimsical grape thrives just fine. Aurelio Montes, arguably one of South America's most remarkable winemakers in recent decades, has grown the vines used for this wine in the area of ​​the Aconcagua Valley, which is closest to the Pacific Ocean. This is an elegant and chic Pinot Noir, dark red in color with the scent of very ripe cherries, tobacco leaves and sweet cedar. This is a "hot" Pinot Noir but at the same time refined, the oak is noticeable but not overwhelming and gives a sweet and spicy taste. Really cool wine.

Mouth: a very balanced wine, with rich natural acidity that makes it juicy and fresh. 


Notes of sour cherries and fresh strawberries, on a floral background. 
Nose: with aromas of rose petals and wild herbs. 
Aromas of vanilla and dulce de leche integrate very well with the aromas of the variety.