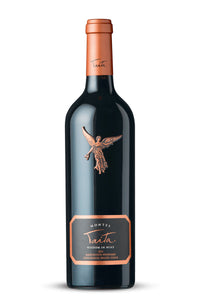 Tasting Note: Taita is a grand wine created with passion, enological rigor, and most especially, with wisdom. It represents the sum of all of the knowledge we have acquired over the 27 years that we have been making fine wines. Taita is made with grapes from our vineyards in Marchigüe in the Colchagua Valley. Rigorous geological studies indicate that a glacier was detained in a sector of the vineyard for many years and left behind a tremendous amount of alluvial materials. Its unique soil components feature a large amount of rounded stones that form a veritable underground labyrinth, a special habitat in which the roots of our dry-farmed (non-irrigated) Cabernet Sauvignon vines have adapted extraordinarily. The result is extreme stress, which results in a very limited production of very small, very concentrated grapes.
It is an intense ruby red in color, and the nose presents intense aromas of red fruits, black cherries, dried fruits, blackberries, dark chocolate, thyme, and cassis in perfect harmony with its very well integrated French oak thanks to its 24 months in the best fine-grained barrels that were especially designed for long aging and slow contribution.
The elegant, medium-bodied palate features soft, silky tannins with excellent structure and balanced acidity that will ensure a long life in the bottle. Black fruits and cedar reappear on the creamy palate with a sense of terroir that recalls Marchigüe's glacial-alluvial soils. The finish is long, smooth, sophisticated, and tremendously persistent.
The aging potential is at least 15 years.
Varietal: Blend of 85% Cabernet Sauvignon, 15% at the winemaker's discretion.