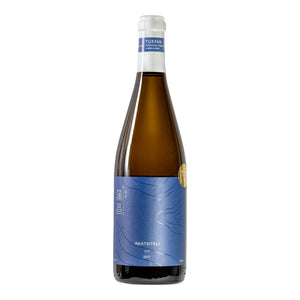 Type: White
Country: China
Region: Turpan Valley, Xinjiang
Grape Variety: 65% Rkatsiteli, 35% Riesling
Alcohol Percentage: 13.5%
Viticulture: Natural Wine | Certified Organic | Vegan Friendly
Climate: Turpan is sunny and dry all year-round with little rain of only 16-20mm per year. Average temperature is 14.4°C with extreme diurnal temperature variations. Growing season is around 270 days, 3000-3200 sunshine hours per year. The dramatic swing in temperature variation means that our grapes' exposure to sunlight increases the ripening qualities while the sudden drop in temperature at night preserves the balance of natural acids in the grapes, resulting in more resilient and intense flavoured grapes with high acid and high sugar contents.
Terroir: Vineyards lie on a bed of alluvial soil of Gobi gravel, sand and silt. South-facing on a slope at 1100m above sea level. Vines are 21 years old. Grapes are watered naturally with melting snow from Tian Shan Mountain. Untouched by men and free from pollution, it channels through the underground Karez water system to their vineyards, keeping the water source naturally pure.
Ageing: Soft pressed and fermented in stainless steel tank. Then aged for 12 months: 45% in 2nd and 3rd fill French oak barrels, 20% in new 20hl wood cask and 35% in stainless steel tank. Blended and light filtration before bottling. No malolactic fermentation.
Color: Brilliant straw yellow color with amber notes
Nose: Attractive aroma of white fruits such as peach, pear and touch of coconut note
Palate: Round and complex, has refreshing acidity and light minerality with a hint of orange peel. Very long finish
About the Winery:
Very much an oasis in the middle of the desert, Puchang – located in Turpan Valley, China's Xinjiang province – now comprises approximately 100 hectares of vineyards which produce up to 130,000 bottles each year. Puchang was first established in 1975. In 2008, Hong Kong businessman, Mr K.K. Cheung purchased the estate, giving it a new direction as one of the first organic wine producers in China.
Puchang focuses on organic viticulture and winemaking with unwavering dedication and care under quality management. It also works with distinctive local grapes to present the taste of Xinjiang terroir. Thanks to the extreme desert climate, this land is almost entirely free of pests. Puchang is certified by ECOCERT as being organically maintained, which is an indication of its fine standard at the international level.