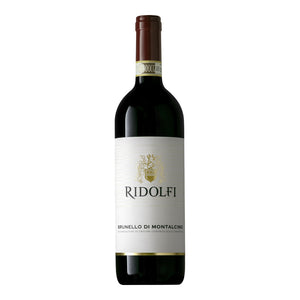 Type: Red
Country: Italy
Region: Tuscany
Grape Variety: 100% Sangiovese
Alcohol Percentage: 14.5%
Viticulture: Organic Farming
Ratings: 94 James Suckling Points (2015), 93 James Suckling Points (2016), 93 James Suckling Points (2017)

Climate: Warm and dry climate where the Sangiovese grapes ripens more fully and consistently than anywhere else in Tuscany
Terroir: Vineyards are north-East facing on the slopes of the Montalcino hill. Vines are more than 15 years and trained using the simple Guyot technique. Vineyard altitude ranges between 60 to 200 metres.
Ageing: Fruit is pressed then fermented in stainless steel tanks for 35- 40 days during which time full malolactic fermentation occurs. 36 months in large Slavonian oak barrels or bottle, then aged an additional 12 months in bottle.
Color: Pale ruby colour with garnet reflections
Nose: Supple red fruit expression on the nose, light incense note on the palate and gently savoury drive
Palate: Lively acidity in perfect balance with sweet and refined tannins. Long mineral and salty finish
About the Winery:
Founded in 2011, the Ridolfi farm actually dates back centuries. It was the property of the historic Ridolfi family, nobles from Florence who had considerable land holdings in Montalcino.
Ridolfi winemaker Gianni Maccari is one of the last disciples of Giulio Gambelli, whom many believe was the greatest Tuscan winemaker of all time. And when owner Giuseppe brought Maccari on board, he offered him carte blanche. Maccari immediately set about building a brand-new, state-of-the-art winemaking facility, purchasing casks, and introducing organic growing practices in the vineyard.
The estate covers 35 hectares, with 21 planted to vine. Of these, 13.5 hectares are devoted to the production of Brunello, with a single hectare devoted to Rosso di Montalcino. The oldest vines on the property were planted in 2001.
Lying at the northern foot of the hilltop city of Montalcino, the soil types fall into the "classic" category: A mix of clay, limestone, and sand, ideal for the production of long-lived Sangiovese with rich flavor. Organic farming practices are employed in the vineyards.