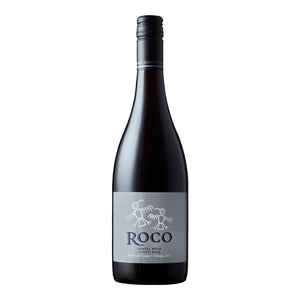 Type: Red
Country: USA
Region: Oregon, Willamette Valley
Grape Variety: 100% Pinot Noir
Alcohol Percentage:14.5%
Viticulture: Certified Organic

Climate: The Willamette Valley climate is relatively mild throughout the year, with cool, wet winters and warm, dry summers. While moisture is abundant, most of the rainfall occurs in the winter, not during the growing season. This temperate climate, combined with coastal marine influences, make the gentle growing conditions within the Valley ideal for cool-climate grapes
Terroir: The hills in the Willamette Valley are punctuated by gravel roads, which lead to the regions finest vineyards. ROCO's Gravel Road Pinot Noir is a blend of several of the distinctive vineyards including the Soles' own Wits' End Vineyard in the Chehalem Mountains AVA
Ageing: ROCO Pinot Noir is handpicked and then chilled overnight to 38°F in our large cold room. The chilled bunches are gently de-­stalked and the whole berries fall into small 1.6 ton open fermenters. The berries soak for ten days before beginning ferment with our proprietary, house-­cultured, indigenous wine yeast. Soaking allows gentle extraction of colour and flavour from the berry skin and not the bitter-tasting seeds. The fermentations are hand punched twice a day to mix skins and fermenting juices. Ferments are allowed to reach about 28°C. A post-fermentation soak occurs until the wine is just right for removing from the skins and seeds. At that time the ferment is gently pressed in our modern tank press. The young wine is then sent to barrel for malolactic fermentation to soften the acidity and to add further complexity, then racked once to new, one, two and three-year-old, tight-grained, French oak barrels. The wines are aged in barrel for 18 or more months before bottling.
Color: Ruby red
Nose: A lovely example of Oregon Pinot, this wine delivers strawberry, rhubarb, and baking spice on the nose
Palate: Flavours of spiced cherry and black plum meld with soft, toasty tannins for a smooth, medium-long finish