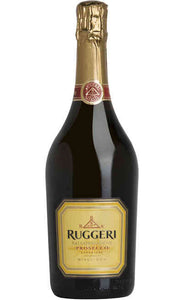 Winemaker Notes
The color is light straw – yellow tending to pale green. Its crystal clarity is laced with a persistent perlage of fine bubbles. The bouquet, although persistent and intensely fruity, is extremely delicate which brings mature golden apples and acacia flowers readily to mind. It is gently sweet and fresh on the palate and pleasantly light in alcohol, extremely smooth and well-balanced with long and fruity finish.



Critical Acclaim
Fresh, bright and zippy with notes of apple and apricot. Good focus and purity with a distinct mineral finish.
JS
A pleasant Prosecco with fresh, sweet-apple and summer-meadow aromas and flavors. Well-balanced froth on the palate and a touch of sour cream on the finish. Drink now.


Bright and spicy, this wine has an herbal edge, a savory note of clover and thyme to balance its green apple sweetness. Serve it with pasta tossed with butter, peas and lemon.