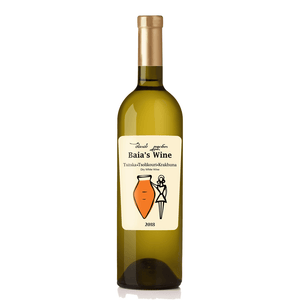 Type: White
Country: Georgia
Region: Imereti, Obcha Village
Grape Variety: 20% Tsitska, 60% Tsolikouri, 20% Krakhuna
Alcohol Percentage: 13.6%
Viticulture: Natural Wine | Certified Organic | Biodynamic
Climate: The Village of Obcha in Western Georgia boasts a unique micro-climate, located east of the Sairme Mountains, which receives a slightly higher angle of the sun's rays with greater solar intensity. The heavy cold air that collects between the high peaks during the night drains off the heights, much like water, joining cold moist air, creating a double cooling effect. The cool nighttime temperatures are critical in developing high-quality grapes
Terroir: At 324 meters above sea level, Baia's vineyards offers an ideal location for growing premium wine grapes. Vines lie on a bed of alluvial soil, with clay, gravel, sand and limestone. The limestone offers good drainage in the wet years, retaining much-needed moisture in the dry vintages while adding various mineral elements to the soils, which transfer to their gorgeous grapes
Ageing: The wine is fermented in qvevri (clay amphora) following the ancient Imeretian methodology of winemaking. Unfiltered, low intervention, very low sulphites and usage of wild yeasts
Color: Straw yellow
Nose: Aromas of persimmon, apricot and citrus
Palate: Full-bodied dry wine with a long and pleasant finish
About the Winery:
Young sisters Baia and Gvantsa quickly became well-known names not just in Georgia, but also outside of their homeland. In 2015 and in their early 20's, they decided to continue their family traditions of winemaking in the beautiful village of Obcha, Imereti of Western Georgia.
Baia's Wine is a small, tight-knitted winery created out of passion for their land while bringing new life and energy to a region with plenty of history. The ladies of Baia followed in their parent's and grandparent's footsteps, making exquisite wines with the Georgian traditional winemaking method in the Qvevri – large, egg-shaped amphorae earthenware vessels used for the fermentation, storage and ageing of traditional Georgian wine.
In the winery, Baia focuses on typical Imerietian wines from varieties such as Tsitska, Tsolikauri and Krakhuna, while Gvantsa makes red Georgian wines from the Otskhanuri Sapere, Aladasturi and Ojaleshi. In 2019, Baia was recognized in the Forbes' 30 Under 30 for her work in the vineyards. Today, seven acres of vines filled with indigenous grapes grow without pesticides or fertilizers, tended to with the biodynamic principles, with the most minimal of intervention as the grapes transform into wine.