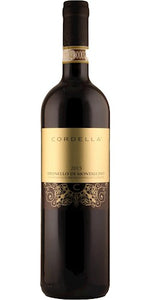 Brunello 2015 is already well-known as James Suckling's "fairy-tale vintage" and unsurprisingly it has produced an embarrassment of riches with countless wines of incredible quality and longevity.
Among the most impressive, unique and compelling wines of the vintage is today's 97-point newcomer from Cordella. This latest release is not only one of the best wines of a great vintage, but also one of the highest-rated wines from the estate to date.
Managed by winemaker Maddalena Cordella, she has pursued a remarkably down-to-earth programme of winemaking and vineyard management. Everything on her organic 9-hectare estate is done by hand with unwavering dedication to quality. That extends to pruning, thinning and of course harvest.
Alongside her classically traditional methods she also avails herself of the latest in winemaking technology. A new winery built in 2010 is fully equipped with cutting edge energy and water-saving measures as well as perfect climate control in the barrel cellar, and all of her plantings follow hydrogeological mapping ensuring that they make use of the best possible terroirs.
The resultant wine is complex and beautiful. With an "intensely floral note of eucalyptus and tea tree oil" on the nose it is a standout from a vintage where most wines are excellent, if a bit homogenous.
Vintage
2015
Color
Red
Country
Italy: What are the first things that come to mind when thinking about Italy and Italian culture? There's one thing that nearly everyone tends to mention, it's the food - and where there's fine food, there is almost always fine wine. Italy is the most prolific wine region in the world, outclassing even France in terms of production quantity. Even if you're a complete wine novice, you have almost certainly heard of names such as Barolo and Barbaresco, Italy's most famous wine styles. When it comes to soil composition and other geographical characteristics, Italy offers a lot of diversity, and this never fails to show in the wines themselves.
Producer
Cordella
Rating
97

James Suckling

Region
Tuscany: Italian culture worships the concept of a shared meal, and their wines scream for a chance to be uncorked with your friends and family. The region's Mediterranean climate and hilly landscape combine to create a beautiful viticultural environment, where every chosen grape is brought to its full potential and transmuted into drinks worthy of gods. The vineyards are planted along the higher reaches of the hill slopes, creating a gorgeous view of the Italian landscape. Once your lips kiss the wine, you're sent spiraling down a veritable whirlpool of pure flavor, touching upon notes of sensuous cherry, nuts, floral hints and undertones of honey and minerals. The wines can be as sweet as a fresh summer romance, and carry an air of dignity and elegance about them that can stimulate your intellect for months as you contemplate the seemingly infinite intricacies and details in the texture. Tuscany is an important part of Italian viticulture, and sampling their wines is the closest you can get to visiting this heavenly region and experiencing the culture.
Type of Wine
Brunello: As you indulge in some fine Brunello, and you gaze into the deep brown elixir, your tongue will almost pulsate with excitement, as rich flavors of black cherry, chocolate, black raspberry, and blackberry are woven together like a heartfelt poem. An earthy, leathery undertone provides excellent contrast next to all the fruit, rounding out the experience .
OWC
No
Varietal
Sangiovese