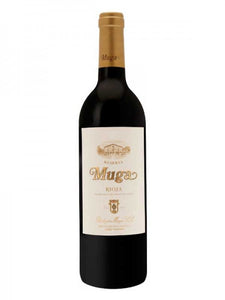 The sublime aromatic balance of a red wine from Spain
The estate
A family bodega created in 1932, Muga is, today, one of the most iconic wine producers in the La Rioja wine region, located in the north of Spain. With a respect for traditions, the working methods of yesteryear, clarifying the crus using fresh egg whites, the use of noble materials…since its inception, Bodega Muga has paid careful attention to producing great wines which reflect all of the typicality and authenticity of their terroir.
The vineyard
Reserva 2017 is produced from very beautiful terroirs in La Rioja Alta, a region located in the north of Spain. Not far from Haro, the Muga family's various vineyards are rooted upon exceptional soils thanks to the combination of Mediterranean and continental climates. The Atlantic influence subjects the areas to significant temperature variations between day and night, fostering phenolic concentration and acidity in the berries. The vines from which this cru is produced thrive on soil rich in clay, limestone and alluvium from the Tertiary zone.
The vintage
The 2017 vintage has officially been recognised as "very good" thanks to its grapes' perfect sanitary state when being harvested.
Winemaking and ageing
The grapes ferment in wooden barrels with the use of native yeasts. The wine then ages for 24 months in carefully selected oak barrels. After this ageing phase, the wine is lightly fined using fresh egg whites before being bottled and kept in the cellar to age for at least 12 additional months.
Blend
Tempranillo, Garnacha Tinta and Graciano.
Tasting
Colour
The Reserva 2017 is a rather deep ruby red, with brick red highlights.
Nose
The aromatic bouquet brings together a delicious expression of red and black fruits such as blueberry, plum and forest fruits with hints of liquorice and chocolate.
Palate
The Reserva 2017 is a rather full-bodied wine which reveals a sublime balance between nuances of ground coffee beans, ripe fruit and silky tannins. The finish is a wonderful length. Its character makes this wine very appreciable from now, but it will remain a real delight on the palate for many years to come.
Food and wine pairings
Reserva 2017 is the perfect companion for veal or cured meats.